The Newry Knights are currently recruiting volunteers to operate this vital support service on Saturdays nights in the city centre.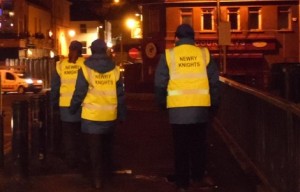 A full training programme will be provided covering conflict management, communication skills, dealing with emergency situations as well as ongoing support and back up for the team of volunteers. The training sessions take place over two full Saturdays 20th & 27th June 9.30-4pm in the Banqueting Room, Bagnals Castle and volunteers must commit to attend both of these. 
Based in McGrath House and similar to support services in other large towns and cities, the Newry Knights project provides a safe place and support for vulnerable people in need of assistance, where they can go or be signposted to by police, or other night-time economy providers.
As part of its strategy to address issues in the Night time Economy the Policing and Community Safety Partnership are supporting the Salvation Army to deliver the Newry Knights project. 
If you are interested in learning more or registering your interest please contact PCSP office 028 30313078, email siobhan.fearon@newryandmourne.gov.uk or register for their opportunities online: