Search For Volunteering Opportunities
Investing in Volunteers Process
Search for Volunteering Opportunities
New opportunities added daily. Powered by Be Collective.->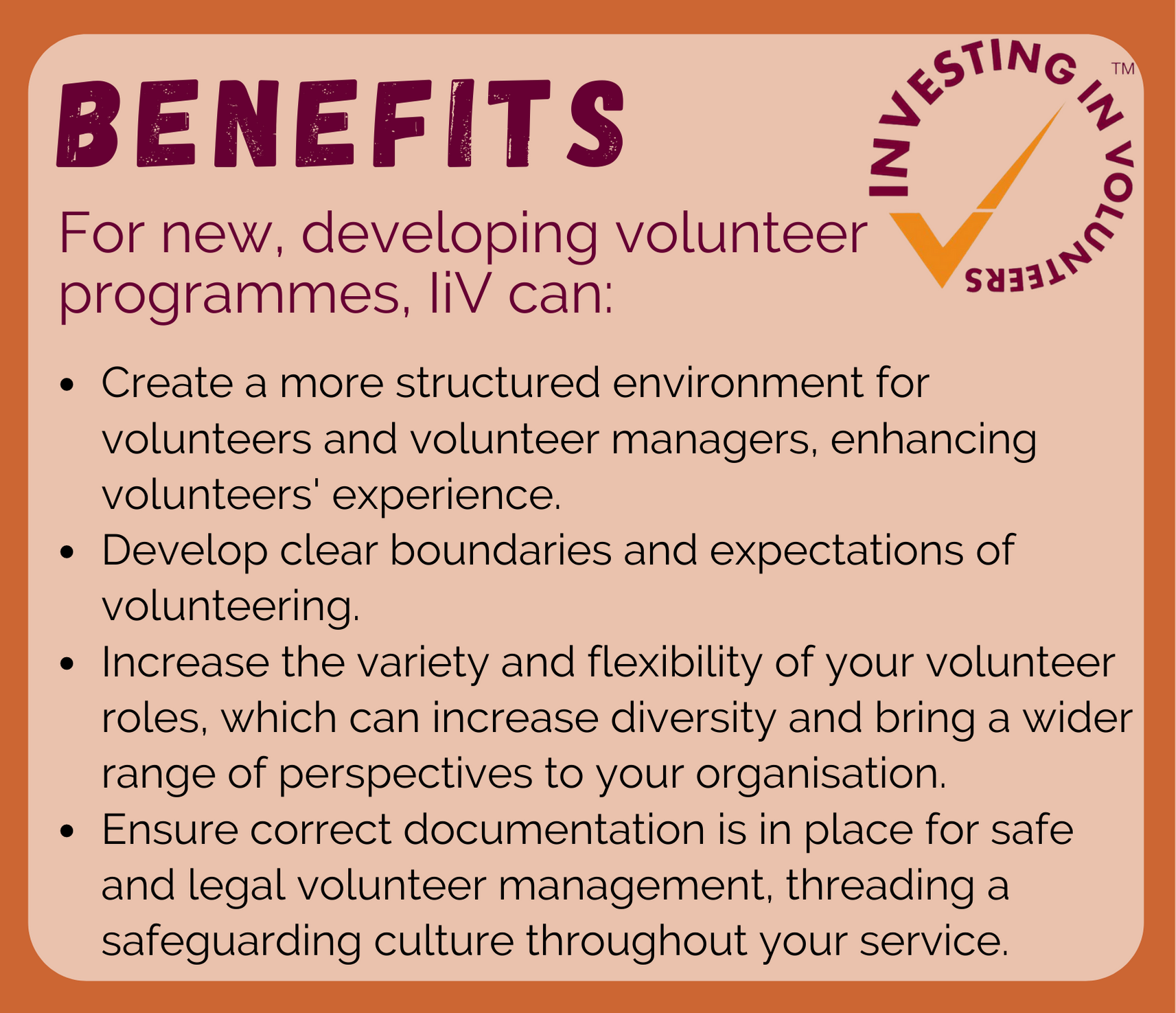 Investing in Volunteers (IiV) has been designed to be an effective and rigorous process to ensure that your volunteers receive the best possible management support and your organisation receives maximum benefit from your volunteers' contribution.  There are six steps to the IiV process, five to achieving the award and then continual improvement and renewal as the sixth once you have achieved the award.
Step One: Getting Started
An introductory workshop will start you on your IiV journey and help you think about what you want to achieve.  It aims to bring a range of stakeholders together, including volunteers, to think about how the standard applies to your organisation, what you want to achieve and how you will organise the process.
It will take place at your organisation or online and generally takes around two hours.  Your assessor or adviser can also signpost you to sources of information and support.
This workshop generally happens within a month of confirming the IiV contract.
Step Two: Self-Assessment
You will complete a self-assessment checklist to identify where your organisation is currently in relation to the standard.  Your assessor or adviser will review it with you so you are clear about where you are.  The assessor will review 3 pieces of written evidence at this stage, one of which will be your volunteer policy if you have one.
The self-assessment generally happens within three months of confirming the IiV contract.
Step Three: Improving Practice
Once you have agreed with your assessor or adviser what activities you need to take to meet the standard, or where you want to use the opportunity to improve practice over and above the standard, you need to devise and undertake an improving practice plan to complete them, considering how you will involve others in your organisation.
Plan – the improving practice plan is usually produced within four months of confirming the IiV contract.
Improve – it usually takes six to eight months to complete activities within your improving practice plan from your plan sign off.
Step Four: Assessment
The assessor(s) will meet with your organisation, in person or online and by telephone and speak to volunteers, staff and board members as well as review written documentation to assess whether you meet the standard.  They can make one of the following three judgements:
You have MET the standard
You have MET THE STANDARD WITH CONDITIONS
You have NOT MET the standard
They will provide verbal feedback and a full written report outlining their findings.
The assessment generally happens within twelve months of confirming the IiV contract.
Step Five: Achieving and Celebrating the Award
Your report will pass through a quality assurance process before you are awarded IiV.  This is to maintain the quality and consistency of the standard.  You will be contacted with information about the certificate, plaque and logo.  You can also think about how you can celebrate and publicise your award.
Step Six: Continual Improvement and Renewing Your Award
Now you have achieved the award, this is your opportunity to continue to maintain the good practice you have achieved and to continue to improve, including any development points identified in your report.
You will be contacted annually by your assessor or a member of your country manager team to see how you are getting on, to talk through any issues or questions, and to signpost you to information or support.
Your organisation is awarded the Investing in Volunteers award for three years.  It is hoped that you will renew this award to maintain the standard and be eligible to publicly demonstrate your commitment to best practice and meaningful, effective volunteering.  Your country manager will be in touch to talk through the renewal process and the benefits to you and your volunteers and answer any questions you have during the third year.
What Could I Do Now?
So that's it!  Why don't you register interest and get a no obligation quote OR if you want to hear more about the process and the many benefits, then contact investinginvolunteers@volunteernow.co.uk to arrange a meeting to talk to one of our team.