Action Changes Things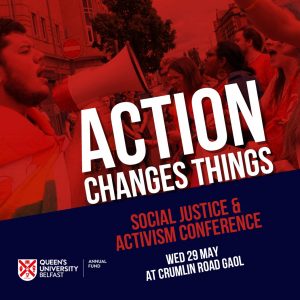 Whether you're a seasoned activist or a novice who's hungry for change, Action Changes Things will support you in your crusade for social justice.
Taking place in Crumlin Road Gaol on Wednesday 29 May, this social justice and activism conference is bringing together expert organisations/academics to share their successes and learnings in activism.
Topics include 'Does Political Violence Work?', 'Digital PR and Campaigning', 'Vegan For Life', 'Education and Activism in the Gaza Strip, Palestine', 'Working for Change Together', 'Educating the Heart – Resilience in Action', 'Campaigning in a Changing World', 'What Does Real Democracy Look Like?' and much, much more!
 Hot lunch and a tour of Crumlin Road Gaol provided!
Click here for full agenda and to book online.