Volunteering Opportunities
Organisations
Practical Support To Help You Involve Volunteers
Register Your Volunteering Opportunities
Volunteering for a New Decade Conference
Nothing stays the same! The environment for volunteering is changing – we need to be prepared and to think creatively about how to involve volunteers in the next decade.
Join us on 5 December at Mossley Mill for a day of innovation, networking and learning to support you as you plan for volunteer involvement to 2030.
Find out more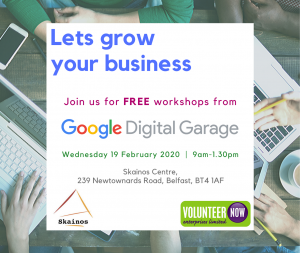 FREE Google Digital Garage Workshops!
22 January 2020
Skainos & Volunteer Now Enterprises Ltd are delighted to announce a new partnership with Google Digital Garage, provide a FREE workshop on 19 February 2020. Whether you want to grow your confidence, career or business, Google Digital Garage provides free training and 1:1 support to help you. Google Digital Garage will be joining us at […]
Read More
International Year of the Nurse & Midwife 2020
20 January 2020
2020 is the first ever global Year of the Nurse and Midwife.  And 2020 is also Florence Nightingale's bicentennial year, designated by World Health Organisation.  Nurses and midwives make up the largest numbers of the NHS workforce.  They are highly skilled, multi-faceted professionals from a host of backgrounds that represent our diverse communities. 2020 is […]
Read More
"We have worked with Volunteer Now on numerous occasions when looking for volunteers for different roles."
Fermanagh Community Transport
""The Confederation of Community Groups have had a close working relationship with Volunteer Now for a long time."
Confederation of Community Groups
"Clanrye Group have benefitted in many ways from working in partnership with Volunteer Now and getting involved in volunteering opportunities. "
Clanrye Group