Volunteering Opportunities
Organisations
Practical Support To Help You Involve Volunteers
Register Your Volunteering Opportunities
Information Resources Related to Covid-19
Volunteer Now have published 3 information sheets for more information when involving volunteers and volunteering during the Coronavirus crisis.
Find out more

FREE Online Course: See Something, Say Something
2 April 2020
Our FREE online safeguarding course – See Something, Say Something is a key course for volunteers taking part in our #HelpEachOther campaign and is also suitable for the general public who may have concerns about their family, friends or neighbours. Click here to find out more and to register.
Read More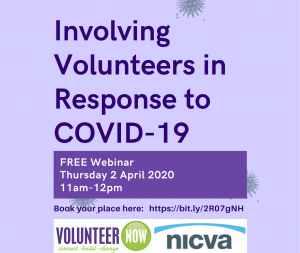 FREE Webinar: Involving Volunteers in Response to COVID-19
31 March 2020
Volunteer Now has partnered with NICVA to deliver this essential learning on how to put best practice in place for involving volunteers safely in such challenging times.  Covid-19 has highlighted across the world how important volunteering is.  Volunteers are bringing amazing support to those 'most at risk' in our communities and more and more people […]
Read More
"We have worked with Volunteer Now on numerous occasions when looking for volunteers for different roles."
Fermanagh Community Transport
""The Confederation of Community Groups have had a close working relationship with Volunteer Now for a long time."
Confederation of Community Groups
"Clanrye Group have benefitted in many ways from working in partnership with Volunteer Now and getting involved in volunteering opportunities. "
Clanrye Group