Volunteering Opportunties
Organisations
Practical Support To Help You Involve Volunteers
Register Your Volunteering Opportunities
Volunteering for a New Decade Conference
Nothing stays the same! The environment for volunteering is changing – we need to be prepared and to think creatively about how to involve volunteers in the next decade.
Join us on 5 December at Mossley Mill for a day of innovation, networking and learning to support you as you plan for volunteer involvement to 2030.
Find out more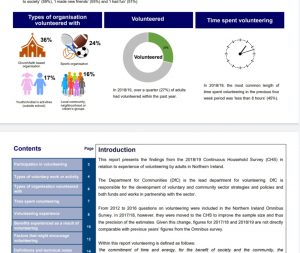 Statistics on the Experience of Volunteering
24 October 2019
This morning the Department of Communities released their report 'Statistics on the Experience of Volunteering: Findings from the 2018/19 Continuous Household Survey'. The bulletin presents analysis on the following topics: Participation in volunteering; Types of voluntary work; Time spent volunteering; Volunteering experience; Factors that might encourage volunteering. Read the report here.
Read More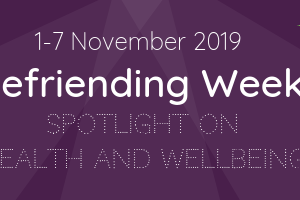 Befriending Week 1-7 Nov
22 October 2019
Befriending Week takes place 1-7 November throughout the UK, raising awareness of befriending and the impact it has on individuals and communities in helping combat feelings of isolation and loneliness.  This year the Campaign will shine the spotlight on health and wellbeing.  Here in Northern Ireland Volunteer Now is encouraging people to take a moment […]
Read More
"We have worked with Volunteer Now on numerous occasions when looking for volunteers for different roles."
Fermanagh Community Transport
""The Confederation of Community Groups have had a close working relationship with Volunteer Now for a long time."
Confederation of Community Groups
"Clanrye Group have benefitted in many ways from working in partnership with Volunteer Now and getting involved in volunteering opportunities. "
Clanrye Group