Search For Volunteering Opportunities
Organisations
Practical Support To Help You Involve Volunteers
Register Your Volunteering Opportunities
Volunteers' Week 2022
This year's Volunteer's Week is the 38th year of the UK recognising volunteers and also coincides with celebrations to mark The Queen's Platinum Jubilee.
Find out more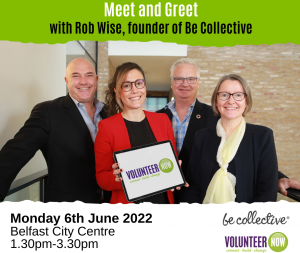 Join us for a Meet and Greet with Rob Wise, founder of Be Collective
24 May 2022
Coming from Australia, Rob will be in Northern Ireland for a couple of days and we would love you to join us so you can get to know him better, understand his motivations, thoughts and aspirations for Be Collective.  It will also be an opportunity to chat to him about how the platform is working […]
Read More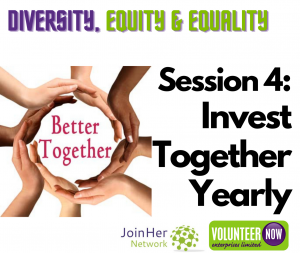 Diversity, Equity & Equality Session 4: Invest Together Yearly
23 May 2022
This last session in a series of four, is all about practical steps to change your organisation.  You can still attend this session even if you did not attend the other three. The make up of organisational culture is changing to be more reflective of the diverse range of individuals, transferable skills and backgrounds.  How […]
Read More
"We have worked with Volunteer Now on numerous occasions when looking for volunteers for different roles."
Fermanagh Community Transport
""The Confederation of Community Groups have had a close working relationship with Volunteer Now for a long time."
Confederation of Community Groups
"Clanrye Group have benefitted in many ways from working in partnership with Volunteer Now and getting involved in volunteering opportunities. "
Clanrye Group