Search For Volunteering Opportunities
Training
Providing Innovative Training
Search for Courses Available
Investing In Volunteers
Interested in standards? Investing in Volunteers (IiV) is the UK quality standard for all organisations which involve volunteers in their work.
Whether your volunteer programme is well established or just developing, IiV offers you a benchmark of 46 practices for effective volunteer management – an invaluable FREE resource for ALL volunteer involving organisations!
Need help to benchmark your organisation against best practice?  You may be eligible for a Health Check.
Why not take your commitment to quality a step further and get assessed against the Standard?
Read More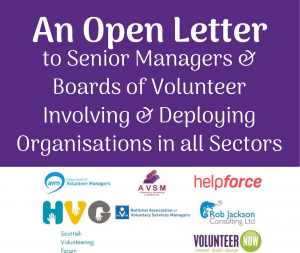 An Open Letter to Senior Managers & Boards in All Sectors
7 June 2021
An Open Letter to Senior Managers & Boards of Volunteer Involving & Deploying Organisations in all Sectors The impact of the COVID-19 pandemic has been significant.  Yet amongst all the gloom of the last year, volunteers have been a source of hope and optimism, supporting the most vulnerable in our society in a myriad of […]
Read More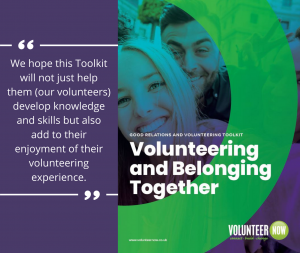 Volunteer & Belonging Together: Good Relations & Volunteering Toolkit
2 June 2021
This Toolkit is a great starting point for encouraging volunteers to think about good relations and diversity, and we hope it will provide you with material to explore the issues and enhance your practice; to have useful, challenging and enjoyable sessions; and that it also provides sufficient further information for future work with volunteers. We […]
Read More
"I really enjoyed the Attracting & Selecting Volunteers course! I was very impressed with the online facility. The audio and interactive actions made the course interesting and straightforward to follow. The course was thought-provoking and I am very much looking forward to putting what I have learned into action."
Eimear Degan, Belfast City Marathon
"Excellent delivery! The trainer did a fantastic job of explaining the concepts using a great mix of learning methods."
NIACRO
"Great session, sparked a lot of ideas!"
#Volunteering & Social Media DIY Training