Be More Connected – 17 June – A day of action on loneliness in Belfast
Monday 17th June 2018, Belfast City Hall 10am -12.30pm
Belfast is known as one of the friendliest cities in the world, but loneliness and social isolation are on the rise.
We want to celebrate the things that bring us together and help tackle loneliness across the city.
We're asking everyone in Belfast to take action by taking the time to connect with each other.
A wave across the road to a neighbour or a cheery hello with a passer-by on the street can make a difference.
We are hosting this day to highlight as many solutions, programmes and facilities available to help people connect and be connectors.
Come along to Belfast City Hall on Monday 17th June for a fun and informative morning.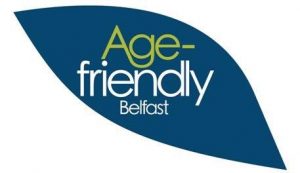 There will also be other activities happening throughout the day on buses in nearby shops, services and venues, including a movie in Queen's Film Theatre. Please come along and join us.  There is no need to register, just call in, but for more information contact Tanya Hay 028 90502073 or email seniorsinfo@belfastcity.gov.uk
This event is supported by Campaign to End Loneliness (www.bemoreus.org.uk), Age NI, Belfast City Council, Belfast Health Development Unit, Red Cross, Clare, Volunteer Now and other agencies, organisations and groups across Belfast.
Comedian Andy Parsons spent a day in a shopping centre encouraging people to get off their smartphones and have a chat. Secret cameras captured the moment surprised shoppers were approached by Andy: watch the Let's Talk More video with Andy Parsons at https://youtu.be/ZctF9ehIMIk