Search For Volunteering Opportunities
Celebrate your Community & Say Thank You!
Search for Volunteering Opportunities
New opportunities added daily. Powered by Be Collective.->
Celebrate your Community & Say Thank You!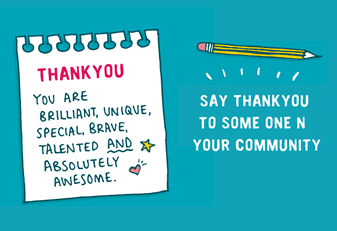 £100 Voucher
2 x Runner up £50 Vouchers 
Primary age school children and youths in Larne and Carrick are invited to Celebrate Community and say Thank you with The Big Lunch and Big Jubilee Lunch.  Everyone is invited to write a letter to thank someone local who has been a help to them during the pandemic.  Lucky winners will be selected to win vouchers to host their own celebration in June and the person recognised will receive a special thank you treat.
The letter writing competition is being delivered by The Big Lunch, and entries can be emailed or dropped off at the special post box at the Pop up shops in Larne (20 Main St during Valentine's week) and Carrickfergus (33-35 High Street 21-26th February).
Grainne McCloskey Northern Ireland manager for The Big Lunch said "The pandemic has not been easy for anyone. Children's lives have been impacted too and we want to hear who and what has made a difference to them.
How to enter
To take part, young people of any age should write a letter of no more than 500 words and it may include photos or drawings poetry or simply words. The letter should include who you want to celebrate in your community and why you want to thank them.
Participants must live within Northern Ireland to enter. Groups and schools may enter or children can enter as individuals.
Teachers, group leaders or parents can photograph entries and email grainnemccloskey@thebiglunch.com on, or before 9pm on 26 February or children can bring their entry to the post box at the shop. Children dropping off entries must be accompanied by an adult.
Pop up shops are at:
Larne 20 Main Street during Valentines week.
Carrickfergus 33-35 High Street 21-26th February, 10-4pm Monday to Saturday.
Winners announced 1st March 2022 on Facebook The Big Lunch Northern Ireland and notified in writing.
If you need any further information, please contact Grainne on gmccloskey@EdenProject.com
In addition to the competition,
The pop up shops have been set up in Larne and Carrick to give residents and groups the chance to find out more about The Big Lunch and Big Jubilee Lunch and we will be issuing free materials and advice.  The pop-up shop has been funded by Mid & East Antrim Borough Council and the Department for Communities under the COVID-19 Recovery Revitalise Programme.
The Big Lunch is your chance to celebrate community connections and get to know one another a little better.  In 2022, The Big Jubilee Lunch will be the official community celebration for The Queen's Platinum Jubilee weekend and will include a note from Her Majesty the Queen to participants.
You can host your Big Lunch as part of the Platinum Jubilee or any time during June – the Month of Community.
Fundraise, recognise our teachers, the key workers, volunteers and local people who helped us through the pandemic. This is our long-awaited opportunity to bring people together. Order your free Big Lunch or Big Jubilee pack now, save the date in your diary, and let's have something to look forward to in June this year. www.thebiglunch.com