Search For Volunteering Opportunities
Charities Call on New Chancellor to Tackle Fuel Costs Crisis
Search for Volunteering Opportunities
New opportunities added daily. Powered by Be Collective.->
Charities Call on New Chancellor to Tackle Fuel Costs Crisis
Soaring inflation puts volunteer-run transport services at risk, say campaigners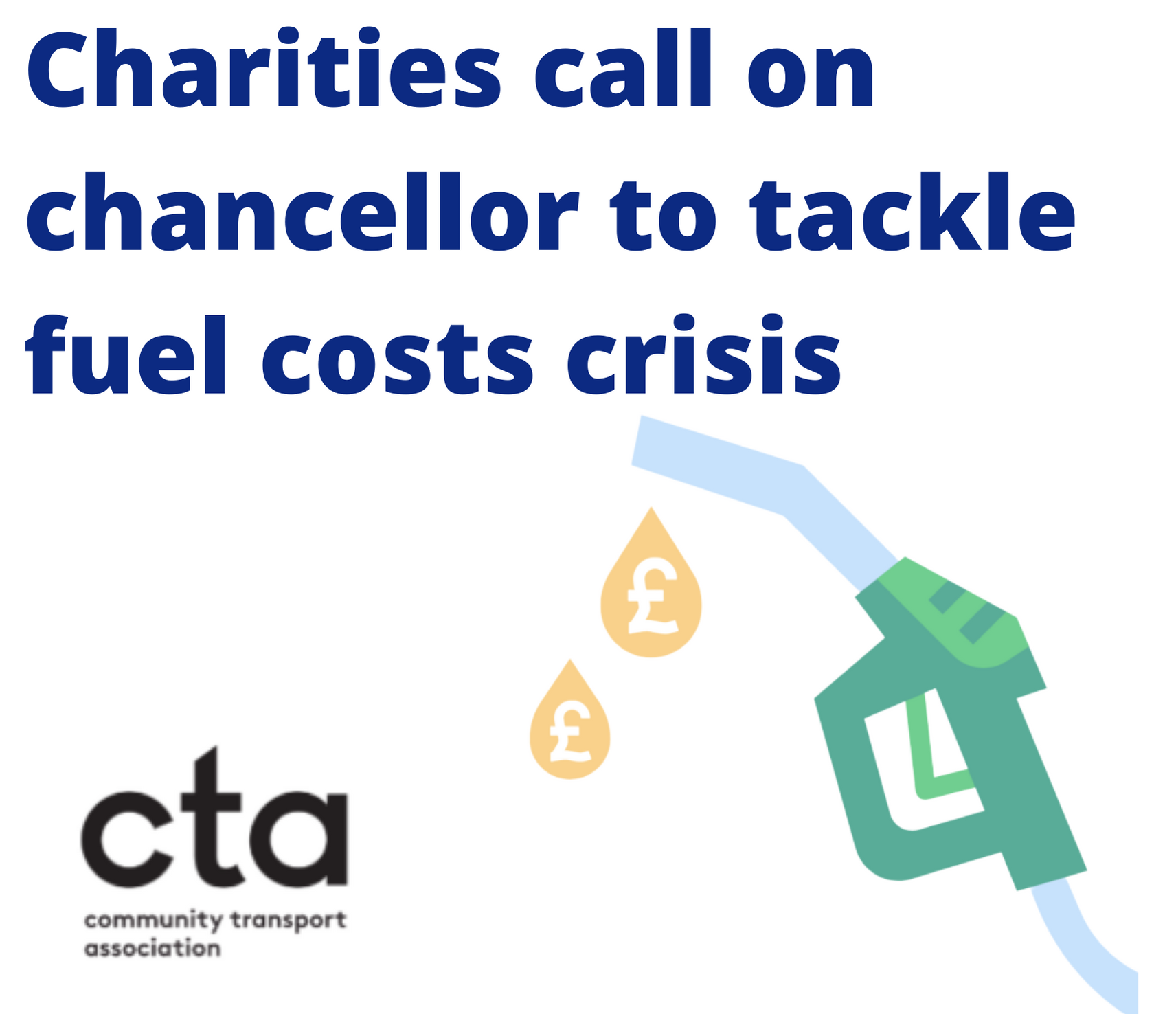 A coalition of eleven charities is calling on the new Chancellor of the Exchequer to tackle the spiraling fuel costs crisis which is damaging the voluntary sector across the UK.
The campaign is led by the Community Transport Association (CTA) – which represents over 1,200 local charities and community groups across the UK who provide accessible, inclusive transport services – and highlights the impact of record petrol and diesel prices on organisations and volunteers.
The letter asks Nadhim Zahawi MP, newly appointed as Chancellor on Wednesday 6 July, to increase the Approved Mileage Allowance Payment (AMAP) – which is the maximum level at which volunteer drivers can be reimbursed without any impact on their tax obligations or benefit entitlements – to reflect inflation in his Autumn Budget this October.
The AMAP rate of 45p per mile was last reviewed in 2012. Before Russia's invasion of Ukraine, the cost of motoring had already increased by 25% since then, according to research by the RAC.
CTA has now joined forces with ten charities from England, Scotland, Wales and Northern Ireland – Communities 1st, Volunteer Now, the National Council of Voluntary Organisations (NCVO), the Scottish Council of Voluntary Organisations (SCVO), Volunteer Scotland, the Scottish Volunteering Forum, the Royal Voluntary Service, Volunteering Matters, Wales Council for Voluntary Action (WCVA) and the National Association for Voluntary and Community Action (NAVCA) – to call for an immediate review of the AMAP rate.
The coalition's letter states that the current AMAP rate 'no longer fully covers volunteer expenses' and is disincentivising volunteering at a time when, as we recover from the COVID-19 pandemic and face a cost of living crisis, it is needed more than ever to – for example, to transport older and disabled people to GP, hospital and vaccination appointments. It asks the new Chancellor to 'safeguard the future of the charities and organisations who rely on volunteer drivers to deliver lifeline services'.
David Kelly, CTA's Director for Scotland, said:
"We congratulate Nadhim Zahawi MP on his appointment as Chancellor and look forward to working with him to tackle inflation, which is hitting all parts of the voluntary sector hard, especially the Community Transport sector. With fuel prices at record highs and the cost of living crisis worsening, it's increasingly difficult for local charities or community groups to make ends meet.

"Some amazing projects and essential services are under threat. If some Community Transport schemes can't continue, it'll mean fewer older and disabled people getting out and about for shopping, hospital appointments or visits to family and friends; fewer younger people and deprived households getting to school, college, university or work; and more transport poverty across the UK.

He added: "We need Nadhim Zahawi to act in the Autumn Budget so that volunteers can continue to do what they love and the voluntary sector can truly thrive, not just survive until the next crisis."
Maddy Desforges OBE, CEO of NAVCA, said:
"NAVCA members report people stopping volunteering due to the cost of living crisis. We call on the Chancellor to increase the AMAP rate to reflect additional costs and enable people from all backgrounds to volunteer – an important part of levelling up disadvantaged communities."
Noeleen Lynch, CTA's Director for Northern Ireland, said:
"We hear reports from our members every single day of drivers who can no longer afford to volunteer as the current AMAP rate no longer covers their expenses. The fuel costs crisis is having a serious knock-on impact on our members' ability to recruit and retain volunteers and to deliver essential services.

She added: "Given the cost of living pressures we're facing, volunteering can be an added expense many cannot absorb. We strongly believe that volunteering should be affordable for everyone and that volunteers should not experience any out-of-pocket expenses."
Jen Reston, Chair of the Scottish Volunteering Forum, said:
"Our members are reporting that volunteers are leaving their roles due to the cost of living crisis and soaring fuel costs. This is making volunteering unaffordable for people which is not acceptable. It then impacts on the ability to deliver services, meet commitments and support those in need of services.

"No volunteer should be out of pocket for volunteering. Volunteering cannot be an activity that can only be accessible for those who can afford it. This will further exacerbate inequalities in our communities. Volunteering has to be accessible for all and the mileage rate reviewed and increased, to ensure that vital services can continue."
Sarah Vibert, CEO for NCVO, said:
"Rising petrol costs are making it increasingly difficult for volunteers and charity staff to drive as part of their roles. This is having a negative impact on charities at a time when their support for communities is needed more than ever.

"That's why we're calling on the government to review the mileage rate to help with transport costs related to volunteering. This will ensure that charities get the crucial voluntary support they need.

"We also want to see the government working alongside charities to explore ways we can meet these rising costs so their vital work can continue."
Judith Stone, Assistant Director of Volunteering at WCVA, said:
"At a time of great hardship for many, we are deeply concerned seeing outdated AMAP rates creating a barrier to volunteering.

"Volunteer drivers offer their time and skill for free, often creating a lifeline for the most vulnerable, especially in geographically isolated and rural communities. Rising fuel costs should be covered by a revised AMAP rate which ensures volunteers are not out of pocket."
Alan Stevenson, CEO of Volunteer Scotland, said:
"Volunteer Scotland exists to ensure that more people can volunteer; enjoyably, safely and regularly. The cost of living crisis is adding significant financial pressure to individuals across Scotland, and creating unwelcome barriers for people who wish to volunteer.

"12% of formal Scottish volunteers gave help to transport people or things in 2018. This is the equivalent of 140,763 Scottish adults giving 12.5 million hours of help with an economic value of £187.8 million. Increasing the AMAP rate will help ensure that more volunteers are able to continue using their own car to provide vital help in their local communities."