Men's Health Day – 23 October 2020
Would you like to have a bit of craic, get energized, learn some news skills, pick up tips and have fun?  Join our virtual Men's Health Day on Friday 23rd October on Zoom.  From Cooking to Bee-keeping and lots more – there's something for everyone!  (all sessions are free of charge)
It's easy to get involved in any part of the day or the whole event – make sure you have downloaded Zoom and then you're ready to go!
Click here to view the full programme and joining details.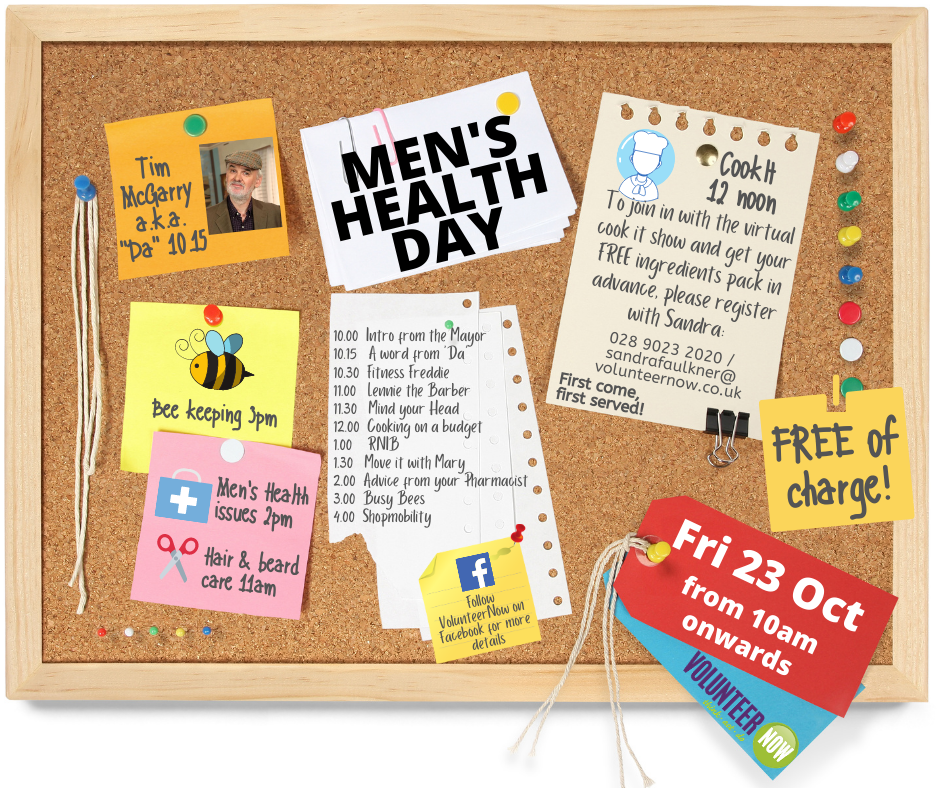 Programme:
10.00am: A Welcome from Lord Mayor, Councillor Frank McCoubrey
10.15am: A word from Da – A bit of advice from our favourite "Da" aka Tim McGarry as he takes us through his ideas on how to look after yourself .
10.30am: Fitness First – Fitness Freddie will put you through your paces in a fun packed session.
11.00am: Hair and Beard Care with Lenny the Dementia Barber – the art of looking after your hair and beard for the well-groomed man!
11.30am: Your Mental Health with Paul O'Kane.  Paul O'Kane author of Man and Boy will take you through positive steps to maintain good mental health. Receive a free copy of his book if you attend the session.
12.00pm: Galloping Gourmet with Chef Gerry Faloona – Gerry will spice up your life with a demonstration on how to prepare a simple chickpea curry dish. A free ingredient pack with all you need can be delivered to your door so you can join in this cooking special. Packs are limited and can only be delivered within Belfast City Council area. To book your place call Sandra Faulkner on 028 90232020 or email Sandra.Faulkner@volunteernow.co.uk
1.00pm: Living with sight loss with Louise Neeson from RNIB (Royal National Institute of Blind People).  Louise will demonstrate and explain a range of products
1.30pm: Move with Mary – Let our very own Lady Mary Peters take you through a little light exercise to get you more flexible and mobile. For the exercise: https://www.youtube.com/watch?v=7h6M5RGfxrk  (Free DVDs of "Move with Mary" are available on request from Sandra.Faulkner@volunteernow.co.uk)
2.00pm: Advice from your friendly Pharmacist – Community Pharmacist Brendan Anglin will provide you with good advice on getting through the winter months including Flu Vaccination and minor ailments
3.00pm: Busy Bees – A talk from Darren Lemon from Black Mountain Action Men's Group on the highs and lows of keeping bees.
4.00pm: Shop Mobility – Hear more from Julie Guilar at ShopMobility, a service second to none and how you can access this service.
(get your login details for any of these sessions in the full programme)