Search For Volunteering Opportunities
Good Relations Awards 2023 – nominate before 16 January!
Search for Volunteering Opportunities
New opportunities added daily. Powered by Be Collective.->
Good Relations Awards 2023 – nominate before 16 January!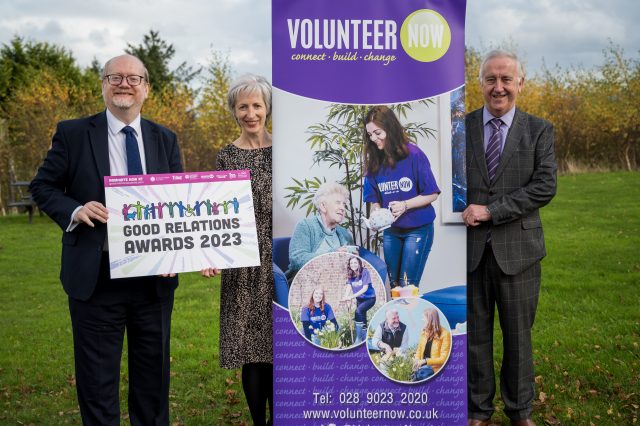 The Good Relations Awards 2023 are open for nominations.  Building on the previous successes of the Community Relations Council Good Relations Awards, the 2023 Awards categories have been extended to fully recognise the increasing level of outstanding community relations, intercultural and peacebuilding work that is taking place across all our communities.
This crucial work is having a real impact, improving people's lives and their outlook for the future, while also strengthening the community spirit in the places and spaces where we live, work, and play.
The Awards highlight the vital role of good relations in peace building and community cohesion, recognising the individuals who unite and champion our local communities, and the projects that connect us and drive our communities forward in peace, understanding and cultural respect.
The Awards categories are designed to recognise the exceptional commitment to good relations work, while also providing opportunities for those who go above and beyond every day, to step forward and shine.
This year also sees the introduction of Awards Partners who are encouraging local groups, individuals and organisations from across the region to get involved and to submit nominations for the 2023 Good Relations Awards programme.
Martin McDonald, MBE, Chair of the Community Relations Council, said:
"The Community Relations Council is proud of the legacy of the Good Relations Award, which we have organised since 2006 to highlight exceptional achievements by local peacebuilders throughout the region. The 2023 Good Relations Awards, in partnership with The Executive Office, NICVA, Community Foundation for Northern Ireland, Northern Ireland Youth Forum and Volunteer Now aims to highlight even more amazing individuals with five new Award Categories.

"The Good Relations Awards 2023 is an amazing opportunity to recognise the efforts of everyday people working from grassroots level and up, those tireless champions making a real difference to all our lives.

"This year we want to shine a light on the people who strive for good community relations for the betterment of us all.

"It is now more important than ever to recognise and reward these truly selfless champions of peace and reconciliation, and to learn from their shining examples."
The Awards five categories and partners bodies supporting the Awards are:
Community Relations Council Exceptional Achievement Award (peace building) – Partner: Community Relations Council
Good Relations Volunteer of the Year Award – Partner: Volunteer Now
Good Relations Community Champion Award – Partner: NICVA
Good Relations Youth Award (Under 25) – Partner: NI Youth Forum
Good Relations Connecting Communities Project of the Year Award – Partner: Community Foundation for Northern Ireland
Nominees are assessed by an independent panel, with finalists in each category getting an opportunity to go forward to the Awards Recognition event planned for last February 2023.
Deadline for completed applications has been extended to: 16 January 2023.
Nominate today on www.goodrelationsawards.com.