Showcase Your Impact as a Leader
Submit a Video for the 2019 Points of Light Conference!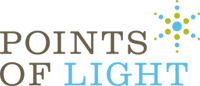 This year's Points of Light Conference (June 18-20 in St. Paul, MN) will have a strong focus on volunteer engagement leadership, including an exciting plenary and over 40 breakout sessions.  Content for this track is being developed by practitioners in the field, led by the Minnesota Association for Volunteer Administration (MAVA).
You are invited to contribute to the Volunteer Engagement Plenary, "Embracing Your Role as a Catalyst for Impact." The planning team needs your help to demonstrate how volunteering creates ripples of impact through not only the organization's beneficiaries, but also volunteers, business, and communities.
Do you have an inspirational story to share with peers about how you have driven change through volunteer engagement?  If so, submit a brief video (by February 15, 2019) and your work may be selected to be highlighted at the Conference.  No special skills or technology needed – just use your cell phone!  If selected, the planning team will follow up with you to finalize details, discuss any revisions, etc.   Click here for more details and instructions on how to submit your video.