The Diana Award – nominations now open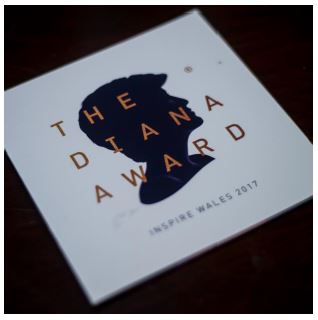 The Diana Award want to hear all about more incredible young people and the game-changing work they're doing to transform people's lives!  If you know a young person that is changing the world around them, please let them know as they would love to champion them and their amazing work.
WHAT IS THE DIANA AWARD?
The Diana Award is the most prestigious accolade a young person can receive for their social action or humanitarian work. The Award is the longest running award for young people that is given to individuals through a retrospective nomination process only.  Young people do not work towards the award, rather they demonstrate their suitability through their actions, without any expectation of reward.
WHO CAN RECEIVE THE DIANA AWARD?
The Diana Award invites you to shine a spotlight on an unsung hero by nominating a young person from your organisation. The Award is open to young people aged 9-25 who have been engaged in at least 12 months of activities, who are selflessly transforming the lives of others, often in the face of adversity. There are many young people in your region who fit this criteria and deserve recognition on a global platform.
WHAT ARE THE BENEFITS?
Young people who receive The Diana Award are presented with a personalised certificate and invited to attend an award ceremony, if located in the UK.  Diana Award recipients are also presented with an invitation to Althorp House, Princess Diana's childhood home.  These invitations are gifted to Diana Award recipients in kind by Princess Diana's, brother Earl Spencer, in recognition of their continuation of Diana's legacy.
Organisations who make a successful nomination also gain the opportunity to raise their profile by being featured in The Diana Award Roll of Honour released to the media by The Diana Award in July every year.
The Award is also a vehicle for inspiring many more young people to engage in social action, mobilising new generations to make a positive change in the world, as Princess Diana believed they could. Click here for a full list of the 2020 Diana Award recipients.
HOW DO I NOMINATE?
Nominations must be made before the 12 March 2021 deadline at https://diana-award.org.uk/nomination-centre/ where further information about the nomination process and our programmes can also be found.
Let's give these young people the recognition they deserve!