#TimesAreChanging NOW!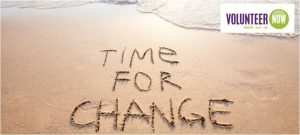 You might have heard that we have changed our volunteer opportunities search system through social media or our recent newsletters. This is now a reality – our new platform is powered by Be Collective and has been launched on Volunteer Now's website.
If you've already completed the registration process, you can now share your volunteer opportunities and manage your volunteers through the Be Collective portal on our website.
Were you previously registered with Volunteer Now to advertise your volunteering opportunities?
You should have received emails from us prompting you to activate your new account.  Your opportunities will have transferred across to the new system but they will be in draft form and won't be published to our website until you edit a few details on them first.  (Click HERE for a quick guide on what to do when logging in to the Be Collective platform for the first time)
If were previously registered with Volunteer Now and you didn't receive emails from us about activating your new account, please contact jamie.greer@volunteernow.co.uk 
I haven't registered my organisation yet – what do I do?
If you haven't signed up already, we invite you to register to Be Collective through Volunteer Now today. Once you've registered, you can review and approve your existing volunteer opportunities, as well as adding any new opportunities you'd like to share.  (Click HERE for a quick guide on how to add your volunteering opportunities)
Organisations on our new Be Collective platform have access to:
A free end-to-end volunteer management system to recruit, manage and promote your opportunities
Access to live data to understand your volunteer's impact
And much more! But you need to register first…