Trustees Week 2-6 November
Trustees Week is 2-6 November and during the week we like to thank the many charity trustees throughout Northern Ireland for all they do.  Volunteer Now has a Board of very committed trustees and we are delighted to profile Martin McCarthy who is a member of the Volunteer Now Finance Sub-Committee.
Martin McCarthy – Trustee
Martin is a Chartered Banker who worked for many years in AIB Group/ First Trust Bank, and more recently as NI Regional Manager for Charity Bank.
"Before joining the Board of Volunteer Now I was an independent member of the Audit and Risk Committee.  I first met Denise Hayward when I was promoting Charity Bank at a CO3 Conference.  I had previously worked closely with the former Chair, Joe McVey, on the Board of Building Change Trust, and it was he who encouraged me to join Volunteer Now.  My Board activities all kicked off more than a decade ago on the back of corporate fundraising partnerships with a number of local charities.  Aside from that I am also a Primary School Governor.

Being a Charity Trustee has allowed me to learn a great deal, meet many impressive individuals and hopefully I can add something based on  my own experience and thinking.  A good Board should have a range of skills and backgrounds, should focus on high standards and shouldn't be afraid to question the status quo.  Obviously they should be a strong support for the charity's Chief Executive and their whole team.

The pandemic has added a number of complications and challenges for all charities which means that Trustees need to keep a close eye on any new risks which have presented themselves, while making sure that commitments are delivered on.  Zoom has been a very useful tool for keeping in touch, but I look forward to when we can gather again in person as a team."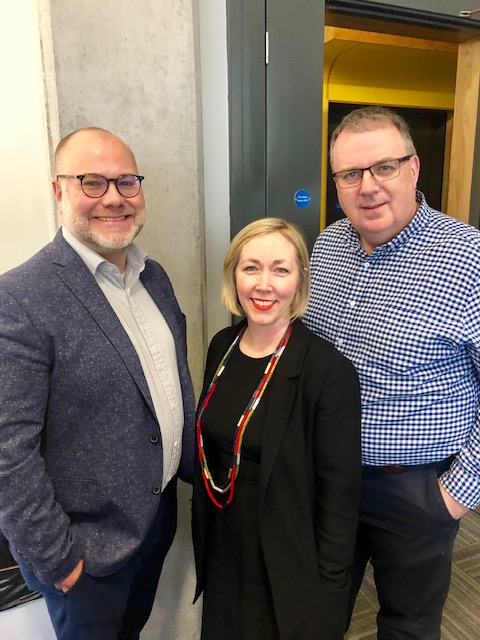 Martin McCarthy (right) is joined by fellow Volunteer Now Trustees Ian Baxter-Crawford and Helen Connolly