Volunteer Now's new volunteer management system – Training Sessions for organisations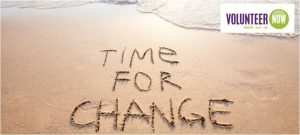 Volunteer Now are moving to a new volunteer management system, Be Collective.
Organisations currently registered with Volunteer Now have the facility to promote their volunteering opportunities on www.volunteernow.co.uk. In order to stay updated with our changes we have organised some training sessions to help organisations navigate through the new platform and allow an opportunity to learn how to use it for the benefit of their organisation and volunteers.
This new system will provide each of our member organisations with an opportunity to promote opportunities, access to real time reporting and data as well as end to end volunteer management tools.  We believe this change will enable our partners to easily manage their volunteering opportunities and ensure a positive experience for everyone involved in the volunteering process.
Our new system will go 'live' on January 6th 2020 so this is a great opportunity for organisations to familiarise themselves with it beforehand.
** Please note this training is initially only available to organisations connected with Volunteer Now**
Here's the list of where our training sessions will be delivered – please ensure you book your place at one of the sessions in advance and remember to bring a laptop to access our demo site and be guided through our exciting new platform:
Enniskillen/Fermanagh -Monday 25 Nov, 1.30pm-4pm at Fermanagh Enterprise.  Book your place at https://bit.ly/2KAcrR4
Limavady/Coleraine – Wednesday 27 Nov, 10am-1pm at LCDI.  Book your place: https://bit.ly/2pvIHh1 (FULLY BOOKED)
Antrim/Carrickfergus – Wednesday 27 Nov, 1.30pm-4pm at Volunteer Now, 12E Market Square, Antrim.  Book your place: https://bit.ly/2QwTjaD
Newry – Thursday 28 Nov, 1.30pm-4pm at Ballybot House.  Book your place: https://bit.ly/341kM85
Armagh – Friday 29 Nov, 1pm-3pm at West Armagh Consortium.  Book your place: https://bit.ly/2r2HEpt
Broughshane/Ballymena – Monday 2 Dec, 1.30-4pm at Broughshane House.  Book your place: https://bit.ly/2NYwR8G
Bangor – date and venue to be confirmed
Lisburn – Tuesday 3 Dec, 1.30pm-4pm at Lisburn Library.  Book your place: https://bit.ly/2CVFxq1
Strabane / L'Derry –  Wednesday 4 Dec, 10am-1pm at North West Volunteer Centre.  Book your place: https://bit.ly/2qtHQxP 
Strabane / L'Derry –  Wednesday 4 Dec, 1.30pm-4pm at North West Volunteer Centre.   Book your place: https://bit.ly/2qvmyQz
Belfast –  Wednesday 4 Dec, 10am-1pm at Volunteer Now, Skainos Centre.  Book your place: https://bit.ly/2Oq1djp (FULLY BOOKED)
Causeway – Wednesday 4 Dec, 1.30-4pm at Causeway Volunteer Centre.  Book your place: https://bit.ly/37hyaHm
Belfast – Friday 6 Dec, 10am-1pm at Volunteer Now, Skainos Centre.  Book your place: https://bit.ly/2rYvU7P (FULLY BOOKED)
---
If you need any further information, or if the session you wish to attend is fully booked, please contact Jamie Greer at Volunteer Now on 028 9023 2020 / jamie.greer@volunteernow.co.uk