WheelWorks Arts Launches NI's First Online Digital Arts Festival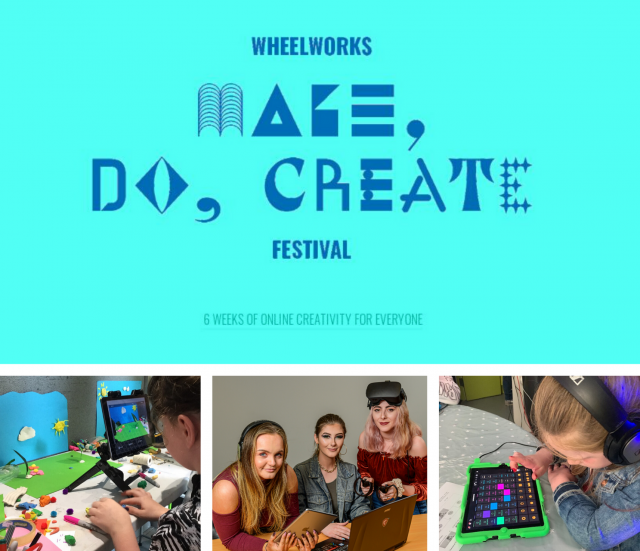 Youth arts charity WheelWorks Arts is launching Northern Ireland's first digital arts festival hosted entirely online. Starting on Monday 13 April, the Make, Do, Create Festival will see a series of artist-led creative workshops take place every day for 6 weeks.
Covering music; animation; photography; dance; visual arts and filmmaking, the Make, Do, Create Festival invites everyone to build their curiosity and passion for all things creative while at home. Seven professional artists will guide viewers through six 20-minute workshops on a specific artform. Example workshops include, 'Home film school', 'Playing with abstract art' and 'Electronic music production'.
WheelWorks Arts CEO Farah Chowdhury commented,
"Taking part in arts activities is a great way to connect; explore; have fun and, most of all, to feel good. WheelWorks Arts is in a unique position to mobilise artists in Northern Ireland and bring digital arts to people at home. We are really looking forward to bringing people across the region together and seeing all the creativity made possible through this brand new festival."
With 25 years of developing and running community arts programmes across Northern Ireland, WheelWorks Arts has been able to work quickly with local artists to put together an exciting and innovative programme of activities in response to the COVID-19 lockdown.
"Make, Do, Create is open to all ages. There will be activities that teenagers, and adults, can do by themselves, or that younger children can do with some help from adults. We want this festival to inspire creativity and fun at home and we would love to see some of the artwork that is generated from it!,"
Tanya Kirk O'Neill, WheelWorks ArtCart Coordinator
The festival is completely free thanks to funding from their principal funders: Arts Council of Northern Ireland; Belfast City Council and Education Authority, which support Wheelworks core programmes.
The festival begins online on Monday 13 April and runs until 24 May. Workshops will be available to view via Wheelworks Arts website www.wheelworksarts.com. You can follow updates on Facebook, Twitter and Instagram @WheelWorksArts.