Youth volunteer numbers grow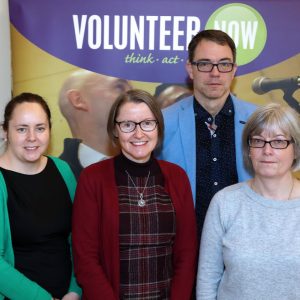 Volunteer Now in partnership with Ark and Young Life and Times, has launched their most recent research into the trends of 16 year olds and their volunteering. We were joined by Anita Dennison a young volunteer and #iwill ambassador and members of DE, EANI and volunteer involving organisations.
The research examined attitudes to and involvement of 16 year olds in Northern Ireland.
Findings show that 68% of respondents said  they were involved in volunteering! This is an increase of 13% from 2009. Gender is the most important determining factor with more girls than boys volunteering, social background is also a strong predictor but Schools are the biggest encourager and prohibitor of volunteering. 16 year olds are encouraged through school to volunteer but levels of school work and exam pressure often prevent commitment. Volunteer involving organisations need to encourage, support and recognise youth volunteering and provide short term and rewarding opportunities.
Denise Hayward, Chief Executive, Volunteer Now says;  "We welcome this valuable research and during 2019 we want to encourage organisations to think about the needs, aspirations and motivations of young people when developing and promoting volunteering opportunities."
The full research report is available by emailing: youth@volunteernow.co.uk