Search For Volunteering Opportunities
Volunteering & St. Dominic's High School
Search for Volunteering Opportunities
New opportunities added daily. Powered by Be Collective.->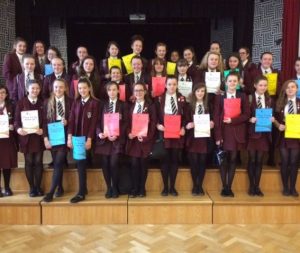 Volunteering & St. Dominic's High School
St Dominic's have been delivery partners of the Millennium Volunteer award since 2012.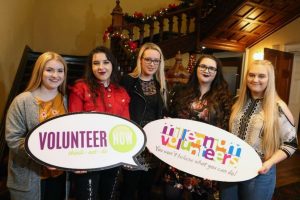 Volunteer Coordinator
The school has opted to appoint a Volunteer Co-ordinator to promote and support pupil volunteering, both within school and within our local & wider community. The school coordinates the timetable to match one period of the Volunteer Co-ordinator's timetable with our (rotating) Faith in Action programme for Years 13 & 14, and a further period with all Year groups' weekly Pastoral Care class. The Coordinator also has assembly time (4 times per week) to access Class and Year group assemblies. We find this works as it allows access to classes, year groups and individual pupils without disrupting pupils' studies.
Launching Volunteering
We have a Volunteer Talk / Presentation to each of 3 key Year groups – Years 12, 13 and 14. At all presentations we introduce the Millennium Volunteer award programme and volunteering opportunities such as membership of the NCS (National Citizen Service), NICCY, the Belfast Youth Forum etc. We also introduce pupils to the Volunteer Now website (Youth Volunteering section).
At the Year 13 presentation we have a team of pupil volunteers speak about their volunteering experiences and the benefits of volunteering, we find peer to peer presentations work particularly well. In addition, we schedule yearly talks from Living Youth and the Clonard Youth Ministry to Years 13 & 14 about faith volunteering.
Volunteer Census
We hold a simple yearly Volunteer Census for Years 12-14, posting a summary of these on our Volunteer boards, and sharing this information with their Tutors and Year Heads. This enables us to know who volunteers and where. We target these year groups for the census as they are most likely to be engaged in volunteering in some form. For years 8 to 11 we rely on Tutor referral, most Year groups have a Pastoral Care class exploring their extra-curricular activities.
Keeping Volunteering in mind
We have 2 volunteer display boards to promote pupil volunteering activities and successes, these are updated fortnightly. We post monthly school Website/Twitter and Facebook entries on volunteering and charitable activities held at St Dominic's. Our yearly school magazine Veritas has space set aside for volunteering. The Volunteer Coordinator presents a yearly report on volunteering to our Board of Governors.
Acknowledging Successes
We have a yearly Extra-Curricular Award ceremony that allows us to promote pupils' successes beyond the taught curriculum and we award prizes to our outstanding volunteers at this event. Our GCSE, Leavers and Middle school award ceremonies all present a 'Volunteer of the Year' award (this may be more than 1 pupil). We encourage pupils to apply to be #iwill and Volunteer Now ambassadors and support them in entering for volunteer awards such as the Diana Award and Pramerica's Spirit of Community award.
We recognise pupil volunteering during Volunteer Week assemblies and at Year group assemblies for example presenting National Kindness Day certificates and a variety of in-house certificates.
Regular volunteering
The school has four volunteer teams led by a number of teachers, including:
A liturgy team (Years 13 & 14)
St Dominic's Habitat for Humanity team (Year13s)
Pupil Mentors (Years 12-14)
The Pope John Paul II award team (Year 13s)
Irregular Volunteering/fundraising
St Dominic's link to two charities; the St Vincent de Paul (SVP), tackling local poverty & social justice issues and Trocaire an international development charity. Each tutor group is encouraged to explore the UN Global Goals and fundraise for Trocaire – they run quizzes, hold bake sales, organise class sponsored events etc. These events are pupil planned and led. Groups of pupils can opt to fundraise for a charity close to their heart such as Cancer Research UK, these are agreed to by the relevant Year head.
Each class contributes and acts as a Secret Santa to a child in need (for example fund-raising and buying gifts for 'John aged 6 years'). Cases are referred to by parishes/SVP and Social services. The pupils must decide what best suits their recipient.
Pupils volunteer for our Saturday Open Day – pupils in sports team, drama groups, choir, orchestra and room volunteers all contribute to the day's events. Last year more than 100 Form Ones volunteered to act as tour guides. Sadly, they don't get time off in lieu!
Specific Year groups target a chosen charity for example Year 9s hold a mass Aerobics session in support of Lepra, Year 13 volunteers led a school 'Cash for Clobber' appeal and in October 2018 for example we collapsed the timetable for a day to let all Year 10s participate in a sponsored walk for Macmillan Cancer Support.
Impact
In 2017/8 we had more than 60 pupils who were regular volunteers (volunteering at least once a fortnight or more). We also have seasonal volunteers who volunteer during the summer holidays. They contribute to the local community in a diverse range of ways as coaches, mentors, peer educators and fundraisers.
In 2017 three pupils won a Diana Award, and two pupils won this Award in 2018. Three pupils were selected as #iwill Youth Ambassadors in 2017 and a further pupil was appointed in Oct 2018. Five pupils were acknowledged as MV Ultimate Volunteers in Dec. 2017. One pupil was a UK Youth Parliament Representative, a further pupil travelled to Helsinki as a member of the Supercell Youth Board and three pupils received the Get Set Values Ambassador award. Three pupils were selected as Millennium Volunteer Youth Ambassadors in 2017/8. One pupil has been selected as a NCS Regional Ambassador for NI in Sept. 2018. Twenty pupils were awarded the Trocaire Romero award in 2018.
St Dominic's is a Beacon school for the 'Get Set for Community Service' programme.