Volunteering Opportunties
Search for Volunteering Opportunities
 'Volunteering – it's a love thing'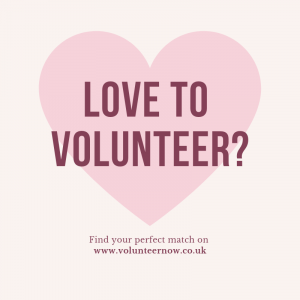 Research reveals that an amazing 74% of people across Northern Ireland cite personal enjoyment as the top reason they volunteer, confirming that volunteering is indeed 'a love thing'.  With Valentine's Day just around the corner, Volunteer Now is encouraging people to spread the love, or at least the word, that people Love to Volunteer!
Denise Hayward CEO, Volunteer Now says, "Hearts and flowers might be the visible signs that love is in the air this month but our volunteers are privy to the knowledge that volunteering is great fun – people get involved and stay involved simply because they love it!
"We go to work because we have to earn money to pay bills, go on holidays, keep a car on the road etc, but people volunteer because they want to, plus there is the additional bonus of meeting new people outside work and family and doing something positive or something a bit different in your community."
She continued, "Volunteer Now promotes a wide range of volunteering opportunities that are just waiting to be loved by someone for example: befriending an older socially isolated person who is confined to their home, Air Ambulance NI has a variety of volunteer roles throughout Northern Ireland or if you don't want to over commit why not think of event volunteering especially as we have two huge events coming up – in May, The Belfast Marathon and the 148th Open at Portrush in July"
Volunteer Now is also encouraging organisations to spread the love by telling us about volunteers who may have met through volunteering or what they love about their volunteers and by sharing stories and #LoveToVolunteer on social media.  If you would like to share your story, contact Julie.cusick@volunteernow.co.uk
If you would love to get involved in volunteering, use our 'volunteering opportunities search' facility for a wide range of roles available in your area.  Or visit our Latest Opportunities page for an idea of the types of opportunities in your area.
---
Volunteers' Week: Each year Volunteers' Week UK 1–7 June recognises the contribution volunteers make to our communities every day. In Northern Ireland, Volunteer Now takes the lead in promoting and encouraging volunteer involving organisations to thank volunteers for all their hard work and commitment.
---